A Volvo Certified Collision Facility, Located Right in New London
At Secor Volvo Cars, we understand dings and scratches happen. From highway debris on I-95 that can cause minor dents in your Volvo model, to fender benders that cause bigger dents, sometimes you just need a reliable body shop you can count on to fix your vehicle, and fix it correctly.
With our Volvo Certified Collision Facility, we can do just that. Don't trust your world-class, meticulously-engineered Volvo to any neighborhood body shop. Take it back to the Volvo professionals who know it better than anyone. Take it to the body shop here at Secor Volvo Cars, and trust that we will do all of your major, and minor, repair jobs quickly and efficiently.
Certified Aluminum Body Repairs
Automakers have been using aluminum in cars for many years. It has many benefits over more traditional steel, weighing less and even being at times more resilient and malleable than harder materials. Luxury vehicle makers like BMW and Jaguar have since adopted use across their model lineup to gain the performance benefits that aluminum offers. Perhaps the most iconic use of aluminum is in the Ford F-150, which features extensive aluminum atop its all-steel chassis.
However, not just anyone can repair an aluminum body panel. Aluminum acts very differently than traditional steel, exhibiting different behaviors when exposed to heat and using adhesives unique to aluminum body construction. Luckily, Secor Volvo is qualified to handle these repairs, thanks to extensive training and an expert staff. Don't trust your vehicle to someone unfamiliar with aluminum body repairs.
Certified Volvo Electric Vehicles Auto Body Repair
Performing bodywork on an EV is a little bit more challenging than on a traditional vehicle. Parts can be difficult to source, the inspection and repair process is more involved, and work must be carefully performed to avoid disturbing the high-voltage systems under the sheet metal of every EV. Secor Volvo is well-prepared to work on your electric vehicles. Trust our experts to get you back on the road and enjoying your electric vehicle.
Certified Auto Body Repairs
New vehicles are highly advanced, requiring specific tools, careful work, and a well-trained eye. Secor Auto Group is one of a select group of body shops nationwide trusted to make auto body repairs on your Polestar vehicle.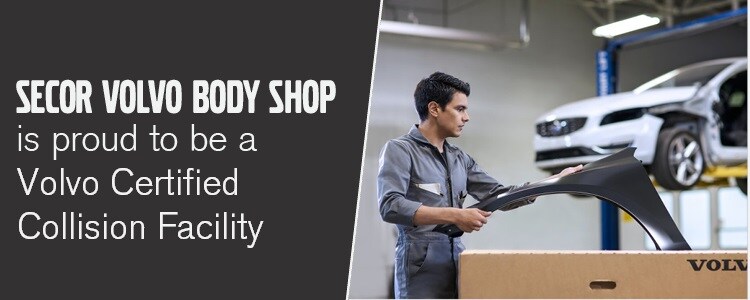 How do you know you can trust the body shop at our Broad Street dealership to restore your car to its manufacture-specified standards? Because Volvo trusts us. Our technicians and the Secor Volvo Cars body shop staff have undergone the rigorous training and certification process through Volvo. We've worked hard to live up to the standards set by both ourselves, and by Volvo, to know how to repair all of our models and reset them back to the pristine condition they were in when they were first purchased.
Getting Started With The Secor Volvo Cars Body Shop
If your Volvo has been in an accident, and you'd like to have it fixed by the experts in our body shop, getting started is easy. You can fill out the secure, confidential contact form on this page, or call our state-of-the-art facility at 877-670-8057, and speak to a member of our professional staff.
With expertise, technology, and professional training by your side, you can rely on the Secor Volvo Cars body shop staff to help you the next time your Volvo needs a little TLC. Our body shop is open Monday through Friday, and we look forward to helping restore your Volvo to its pre-accident condition.
Additional auto body services
Certifed Volvo Repairs

Aluminum Auto Body Repairs 
Certified Volvo Electric Vehicle Auto Body Repairs
We also provide car window tinting, paintless dent removal, auto body rust repair, wheel restoration and detailing services. Our skilled auto body team is ready to make your car shine!
Contact Us
* Indicates a required field