New 2021 Volvo S90 for Sale in New London | Secor Volvo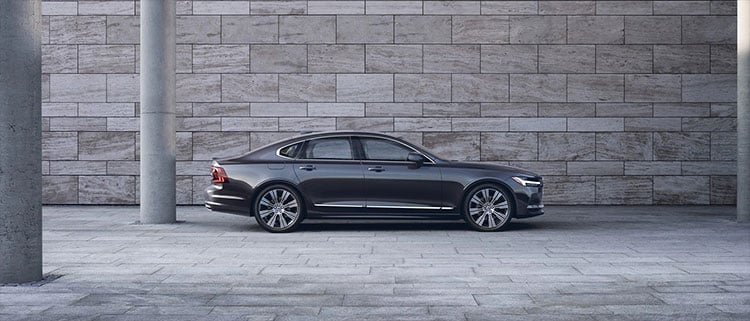 Clear The Air
To help clean the air you breathe, our advanced air cleaner in our world-first air quality system prevents up to 95% of incoming air particles to enter the cabin.
Personal Touch
Pre-heat, pre-cool and more - own your space before you're in it with a simple tap of the Volvo On Call App.
Sharpen Your Senses
Head up display allows you to watch your speed, follow turn-by-turn navigation, answer your phone calls, and more. All without looking away.
Refine The Drive
Enjoy smooth driving dynamics. Our advanced turbocharged powertrains bring you the performance you need without compromising on fuel efficiency
Personal Assistance
Looking for a nearby restaurant or a store to buy a last-minute gift? With just the touch of a button, a Volvo on-call concierge team member will help you find whatever you need - so you can stay focused on the road.
Have A Spa Experience
Nappa leather front seats make every trip a treat. With seat ventilation and a ten-point massage for your back, you can arrive feeling refreshed.
Make Your Move
The blind spot information system (BLIS™) with steer assist can ease tension in busy traffic with alerts and active support, guiding you and your loved ones back on track.
Save The Day
Intelligent driver assist technology can detect and help you avoid a collision with other vehicles, pedestrians, cyclists and large animals - any time, day or night.
Secure Your Spot
Four high-definition cameras give you a 360° bird's eye parking view so you can breeze in and out of any confined space with confidence.
Got Your Back
Driver assist with cross traffic alert makes it easy to find your way out of a tight spot, with warnings for approaching vehicles and auto brake for imminent collisions.
Prepare For What's Ahead
Cloud-based communication allows you to receive and share road condition information. Real-time data helps you, and others, prepare for what's ahead.
Stay On The Road
Our run-off road mitigation system helps steer and brake if you unintentionally stray towards the edge of the road.
Shine On
Arrive with distinction in an refreshed exterior featuring enhanced chrome detailing including a new chrome grille.
Pitch Perfect
Perfectly positioned Bowers & Wilkins speakers bring a sound quality so pristinely clear it feels like front row seats at a symphony - no matter where you sit.
Impress Your Guests
From the front seats to the back, ample legroom and exceptionally fine nappa leather enhance the luxurious experience.
Elegance At Hand
Shift into luxury with a beautifully crafted gear shifter in genuine Swedish crystal. Handmade exclusively for Volvo by the glass artisans at Orrefors®.
Take Your Seat
Exceptionally fine nappa leather adds even more attention to detail for a luxuriously soft and relaxed feel for everyone.
Smoother Ride
Set the dial to Comfort, Eco, or Dynamic mode. Our self-adapting chassis with rear air suspension will adjust instantly to smooth out your ride, optimize fuel efficiency, or give a more dynamic drive.
New 2021 Volvo S90 - Gallery
 Product information may feature optional equipment and accessories. Please see Secor Volvo Cars for specific product availability.
Source: New 2021 Volvo S90