New 2021 Volvo S60 for Sale in New London | Secor Volvo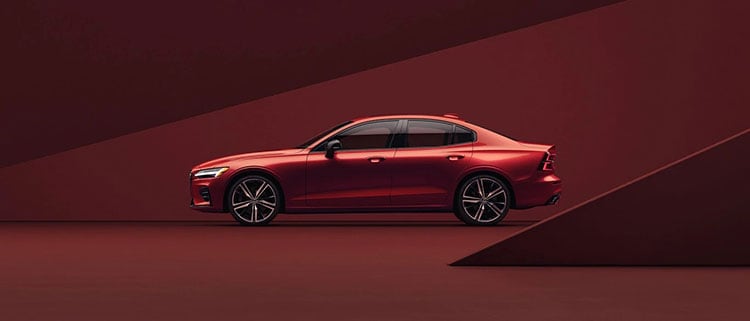 Drive Your Way
The active chassis with Comfort, Eco and Dynamic drive modes instantly adapts to your drive. Choose the mode that fits your needs - or personalize one of your own.
Sharpen Your Senses
Head up display allows you to watch your speed, follow turn-by-turn navigation, answer your phone calls, and more. All without looking away.
Get Dialed In
Optimize everything from mileage to acceleration to braking comfort with the center console roller which carefully can adjust and adapt your driving preferences.
Control The Road
Rain, shine, sleet, snow - just go. Driver assist technology and all-wheel drive combine to create the most responsive driving experience.
All Powered Up
No more crossed wires. The S60 features a dedicated smartphone storage space that makes it easy to wirelessly charge your device while you drive.
Stay Connected
Apple CarPlay™ and Android Auto™ keep things simple by unlocking seamless control of integrated entertainment options.
Got Your Back
Driver assist with cross traffic alert makes it easy to find your way out of a tight spot, with warnings for approaching vehicles and auto brake for imminent collisions.
Save The Day
Intelligent driver assist technology can detect and help you avoid a collision with other vehicles, pedestrians, cyclists and large animals - any time, day or night.
Make Your Move
The blind spot information system (BLIS™) with steer assist can ease tension in busy traffic with alerts and active support, guiding you and your loved ones back on track.
Secure Your Spot
Four high-definition cameras give you a 360° bird's eye parking view so you can breeze in and out of any confined space with confidence.
Prepare For What's Ahead
Cloud-based communication allows you to receive and share road condition information. Real-time data helps you, and others, prepare for what's ahead.
Stay On The Road
Our run-off road mitigation system helps steer and brake if you unintentionally stray towards the edge of the road.
Be Unique
Move through the crowd in something that doesn't follow it. The sculpted shapes and striking proportions of the S60 sedan are a reminder that originality deserves attention.
Improve Every Breath
We care for the environment both outside and inside the car. Advanced filtration technology works as part of our world-first air quality system to help make the air you breathe in the cabin clean.
Pitch Perfect
Perfectly positioned Bowers & Wilkins speakers bring a sound quality so pristinely clear it feels like front row seats at a symphony - no matter where you sit.
Open Skies
An open-and-tilt panoramic roof lets you instantly enjoy the air and view outdoors. Open skies at your fingertips.
Helping Hands
For smoother driving in heavy traffic, our standard Pilot Assist system can lend a helping hand by providing gentle steering support to help keep the car centered in its lane and at a set speed and distance to vehicles in front.
Personal Touch
Pre-heat, pre-cool and more - own your space before you're in it with a simple tap of the Volvo On Call App.
New 2021 Volvo S60 - Gallery

 Product information may feature optional equipment and accessories. Please see Secor Volvo Cars for specific product availability.
Source: New 2021 Volvo S60